Premiered at the Invisible Dog Art Center on October 7th, 2022,
 The Japanese Gesture Archive - Tea Ceremony explores the relationships between individuality and formality through the Japanese Tea Ceremony. The gestures and elements in the Japanese Tea Ceremony will be remixed as choreographic material to recreate our current Tea Ceremony, assessing the meanings of each gesture and the act of offering and receiving.
It invites us to rediscover Japanese social aesthetics as social choreography through current multicultural lenses in New York.
Choreography by Maho Ogawa
Performed by Ursula Eagly, Carolyn Hall, Annie Wang, and Maho Ogawa
Sound by Tomoko Hojo
Visual Design by Sayoko Kojima
Supported by Emily Harvey Foundation and Toshiaki Ogasawara Memorial Foundation
Cross Promotion by the Japan Society
---
The first publication of interdisciplinary work based on Ogawa's practice was in the online magazine "Conectom," published by Leimay-Cave in 2013. Since then, Ogawa and various collaborators have experimented with communicating MMC via multiple strategies including dance performances (online/ in person,) motion capture, audience participation, and a performance with a lecture in the middle.
Minimum Movement Catalog Exhibition
June 3-4/2022 at Umwelt  Gallery
Minimum Movement Catalog-Exhibition activates multiple embodied communications through optical/sensory installation, as an iteration of interdisciplinary artist Maho Ogawa's online gestural lexicon, the Minimum Movement Catalog, created in collaboration with computer programmer Katherine Chuang.
In Minimum Movement Catalog-Exhibition, audiences will be invited to participate in abstract dialogues using the movement catalog as a communication tool to reveal the power of individuality, humanity, and interpersonal connection through technological and cultural barriers. 
---
Minimum Movement Dialogue
Venue October 9th, 2021 at Snug Harbor Cultural Center, NY
Performers Carolyn Hall, Glenn Potter-Takata, Karim Tharani, Maho Ogawa 
Supported by Snug Harbor Cultural Center 
---
Minimum Movement Dialogue by Maho Ogawa - May 8th at 4pm, 2021 at Zoom
The movement exhibition Minimum Movement Dialogue - focusing on the process of movement language to understand cultures beyond ideological / aesthetic differences in body movement.
The presentation is a hybrid performance of online movement catalog demonstration and a live-streamed performance by four dancers.
Performers Miles Butler, Ursula Eagly, Carolyn Hall , Karim Tharani, Maho Ogawa 
Web app collaboration for 'Minimum Movement Catalog' Katherine Chuang 
Supported by Brooklyn College and Foundation for Contemporary Art  
---
[ Minimum Movement Catalog - #13 ] 
Choreography & Movement performance by Maho Ogawa
Dramaturgy by Erika Choe
Date: 4/23 Monday at 8pm 2018
Place: Judson Memorial Church: 55 Washington Square S New York, NY 10012 
---
Minimum Movement Catalog #12 Graphics
11/28/2017 at Dixon Place, NY.
Choreography & Performed by Maho Ogawa
Dramaturge & Graphic Design by Erika Choe
---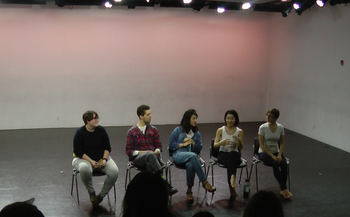 PSOH: February features work by Ayano Elson, Maho Ogawa, and Kristopher K.Q. Pourzal. Post-showing discussion moderated by Jen McGinn.
February 28 at 8pm 2017 
CPR (361 Manhattan Avenue, Brooklyn)
http://www.cprnyc.org/events/performance-studio-open-house-february/
Performance Studio Open House presents works-in-progress and a discussion with the artists about the development process for new movement and dance.
---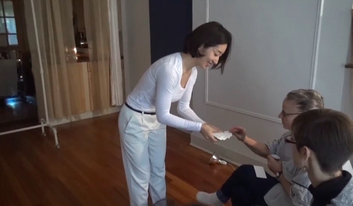 The Way of Drinking Hot Water 2016 at  Domestic Performance Agency 
November 16 1pm, November 17&18 8pm Admission $5-30 donationRSVP ( 8 seats per showing) : 
Domestic Performance Agency www.domesticperformanceagency.com
567 Carlton Avenue. Brooklyn 11238
At the next performance happening at the DPA, Maho Ogawa will present her choreographic material, "The Way of Drinking Hot Water". In "The Way of Drinking Hot Water" Maho will pull together elements of ritual and sensorial textures to accompany her usage of the Minimum Movement Catalog. Minimum Movement Catalog is a database of 112 movements which Maho has created and continues to compile through the years. In it, she notes the fine or hard to see movement components within a larger gesture. Hope you will join us for one of these shows.                  
---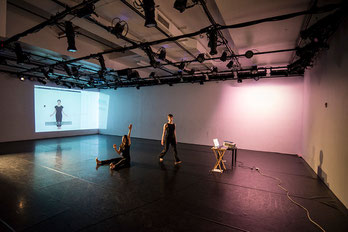 MMC at Spring Movement at the Center for Performance Research in NY in 2015
MMC revised version was performed at Hatch in NY in 2015.
Read Review 
---
2015. Jan
Minimum Movement Database at Industry City Distillery : Collaboration with John J A Jannone
---
---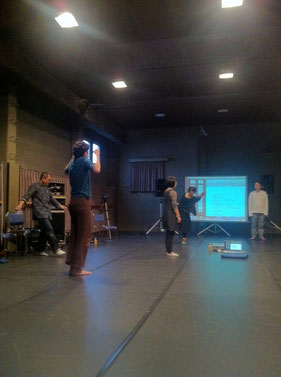 ---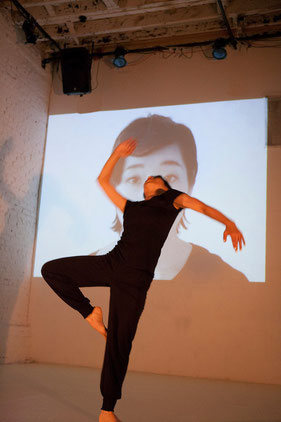 Minimum Movement Catalog at SOAK Festival in NY in 2013 
---