6/3-4/2022 Maho Ogawa at Umwelt gallery
Minimum Movement Catalog-Exhibition activates multiple embodied communications through optical/sensory installation, as an iteration of interdisciplinary artist Maho Ogawa's online gestural lexicon, the Minimum Movement Catalog, created in collaboration with computer programmer Katherine Chuang.
The Minimum Movement Catalog project started as research about Ogawa's Japanese-ness through body language, by archiving movements from the West and East, examining the kinetic and symbolic meaning of each movement language.
In Minimum Movement Catalog-Exhibition, audiences will be invited to participate in abstract dialogues using the movement catalog as a communication tool to reveal the power of individuality, humanity, and interpersonal connection through technological and cultural barriers. 
---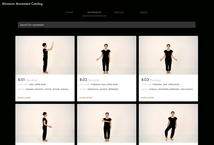 Choreographic Score Mural -1   
Tape, Wall
2022
Maho Ogawa
Center of Gravity - Card  
6"x 4" Cards
2022
Maho Ogawa
Bending - Carolyn Hall, Miles Butler, Maho Ogawa, 5min, 2022
Dropping - Carolyn Hall, Miles Butler, Maho Ogawa, 6min, 2022
Center of Gravity - Carolyn Hall, Miles Butler, Maho Ogawa + audience, 6min, 2022
---
Production Management by jay beardsley
Live demonstration by Miles Butler, Carolyn Hall and Maho Ogawa
Video/ Photo documentation by Alyssa Soethout
Production Support by Kiyou Kamisawa and Ekaterina Petrova
Online catalog creation by Katherine Chuang 
Creative language consultation by Dina Maccabee 
Video/ Installation/ Choreography by Maho Ogawa
Special Thanks to Ron Nicolaysen and Julia Miller 
Maho Ogawa is a Brooklyn-based multidisciplinary movement artist originally from Japan. She uses body movement, instructions, and computer software to discover how relationships and the environment affect individual bodies consciously and subconsciously. Her works have been shown in Asia at Raft (Tokyo), Korea & Japan Dance Festival (Seoul), Za Koenji (Tokyo), Whenever Wherever Dance Festival (Tokyo), Tokyo Culture Creation Project (Tokyo), and at various NY venues including Center for Performance Research, Movement Research at the Judson Church, Domestic Performance Agency, The Hive Art Community, WhiteBox, Snug Harbor Cultural Center, and New York University Grey Gallery. As a performer, she's been fortunate to work with Athena Kokoronis, Mina Nishimura, Andrea Haenggi, Clarinda Mac Low, Ursula Eagly, and Abigail Levine. 
Upcoming performance- 10/7/2022 at Invisible Dog Art Center. 
Artist website: Maho Ogawa suisomovement@gmail.com
For more information about this exhibition, please contact: minimummovementcatalog@gmail.com
Minimum Movement Catalog Webapp / Instagram
Minimum Movement Catalog -Donation
Artist website: Maho Ogawa
This exhibition is made possible by individual supporters.
Thank you so much for your love and passion for the arts. 
Charles Masson
Robert Fribourg
Thea Little
Yuko Fujii
Hiroko Uchida
Masa Hosojima
Kanako Shirasaki
Fang Yu Liu
Rie Fukuzawa
Athena Kokoronis
Matthew Sullivan
Nami Yamamoto
Annie Wang
Sayaka Watanabe
Laura Neese
Ursula Eagly
Ron Nicolaysen
Yukie Yamamoto
Andrea Haenggi
Mizuho Minamide
Abigail Levine
Rebecca Davis
Malena Dayen
David Grubbs
Noreen Wu
Yanira Castro
Satomi Akutsu
Mari Fukutome
Ria Benitez-Combes
David thomson
Kazue Ogawa
Hiroo Ogawa
Tomoyuki Kurushima
Takayuki Motegi
Shinta Raiju
Mina Nishimura
Yuka Uebayashi