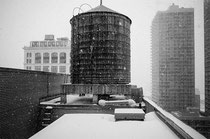 -11度のNYです。人間って慣れるものですね。寒さは痛いくらいですがなんとか生きてます。
というのも、ほっとな話題、3月にwild project というnyc, East Village にある劇場でMinimum Movement Catalog を上演することになりました。
The Current Sessions というダンスシリーズです。応募書類に書く内容が、「どんな風にスタジオで作業しているか」、「インスピレーション源のアーティストは誰でどのように影響されたか」など、具体的で、書類を書いていても楽しかったのを覚えています。  また、審査の途中で応募作品について、作中でどうしてそうしたのかを教えてほしいといった具体的なメールをいただいたりしたので、絶対この人たちと仕事をしたいと思っていました。今それが具体的になってきてほんとうにうれしいです。
the CURRENT SESSIONS: Volume IV, Issue I.
Friday - Sunday // March 7 - 9, 2014
wild project, 195 E 3rd St (between Ave A + B)
Join the Facebook Event at: https://www.facebook.com/events/1393785210880014/

PERFORMANCE TIMES:
Friday + Saturday @ 730p
Sunday @ 3p with TALKBACK
Sunday @ 630p
私は7日金曜7:30pm と9日日曜3pm(トーク付き)に出演します。
TICKET PRICES
$20 General ($15 presale online until Wednesday, March 5);
$30 Double Feature Sunday
$15 Student/Senior/East Village Residents* (with valid ID; *at the door only).
TICKET LINK        web.ovationtix.com/trs/pr/931560
The CURRENT SESSIONS is a NYC-based dance organization and presenting series that represents the works of early and midcareer choreographers and movement-based artists. We seek to provide a place for contemporary dance to thrive, serving as an incubator for the furtherance of our choreographers' artistic visions. Volume IV, Issue I. will feature 12 choreographers and 2 guest artists in 4 diverse programs, with a primary focus on works that have a dance theater/performance art influence and dance with media/technology-based collaborations.
More info: thecurrentsessions.com
Follow us on Twitter + Instagram @CurrentSessions
Like us on Facebook.com/thecurrentsessions